PITTSBURG, Kan. — Equality for all and an end to police brutality toward people of color were the threads of speeches and a police-escorted march at a peaceful rally Monday afternoon in Pittsburg Immigrant Park.
The Black Lives Matter rally, organized by the Black Student Association at Pittsburg State University and various members of the Pittsburg community, attracted hundreds of participants.
Monday also marked the 14th day after the death of George Floyd. Floyd, a black man, died while handcuffed after a white Minneapolis police officer knelt on his neck for more than eight minutes. Video of the act was captured and went viral on various social media platforms, sparking countless protests — and in some cases, riots — across the country and world.
D'Andre Phillips Coble, president of the Pittsburg State University Black Student Association, leads a march Monday that culminated a Black Lives Matter rally in Pittsburg. GLOBE | ROGER NOMER
For the first hour of the demonstration, members of the community gave speeches with a common underlying message that promoted equality for all people regardless of skin color and urged residents to prompt change through voting. The rally was capped by a march in the downtown area of Pittsburg on North Broadway Street with a police escort. The rally was "the first of many" civil rights activism efforts to come in the Pittsburg area, according to D'Andrè Phillips Coble, president of the Black Student Association at PSU.
"This event was held because we wanted people who are not of color to experience that heartbreak of racism," Phillips Coble said. "When you experience heartbreak of any kind, whether it's love, friendship or family, it changes you. It changes the way you think, the way you move and the way you dictate every action you make.
"Some people have built up that wall of immunity to where they can just ignore it and it doesn't apply to them. It's not fair."
Speakers shared their experiences and dealings with racism to the crowd — as well as their hopes to promote change — through stories, poems and song. Journey Jaramillo, a Pittsburg resident, sang 'I Know Where I've Been' from the musical "Hairspray" to voice her message of unity.
"I've always felt really connected to that song and to that message," Jaramillo said. "I felt that singing that song was the best way for me to speak for those people who can't. Maybe it even encouraged others to make their voices heard."
Also speaking at the rally was Pittsburg State University police Chief Stu Hite.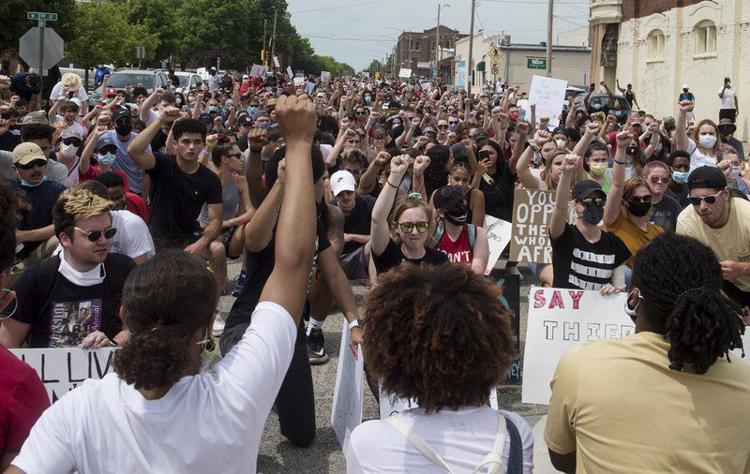 An estimated 300 people raise their fists in a show of solidarity during a Black Lives Matter rally Monday in Immigrant Park in Pittsburg. The event was organized by the Pittsburg State University Black Students Association and other community groups. GLOBE | ROGER NOMER
"We're public servants, and we know that," Hite said. "I know that sometimes we don't always get it right. But for the most part, I think we try hard. I'm not here to defend law enforcement today. I'm just here to tell you that we're here. And if you have a concern, please let us know. Our door is always open.
"Two years ago, I started my role as chief of police over at Pittsburg State, and I believe my role is simply to make sure our students, faculty and staff believe they have a safe place to live and to work. They come from all over the country and the world to make Pittsburg State in Pittsburg, Kansas, their home. We want to make sure they're safe and have that feeling. … This community cares so much. Just look around at your neighbors next to you, and you'll know that."
Rally organizers said they were impressed by the event's turnout, which had grown to about 300 people by the time the downtown march took place, according to Deatrea Rose, PSU director of student diversity.
"I think it speaks volumes for the city of Pittsburg that they are ready for change," Rose said. "Sometimes people don't know how to start the conversation for change, so an event like this begins the process. From here, I think the real works starts happening in small groups and roundtables. It's about getting people together from different walks of life to find out what those experiences look like and how we can facilitate that change.
"We need people who are in positions of authority, our white allies who occupy spaces that we would never dream of going into, to speak up for us and stand up for us to say, 'Hey, it's time to make a change and it's time to make a difference.'"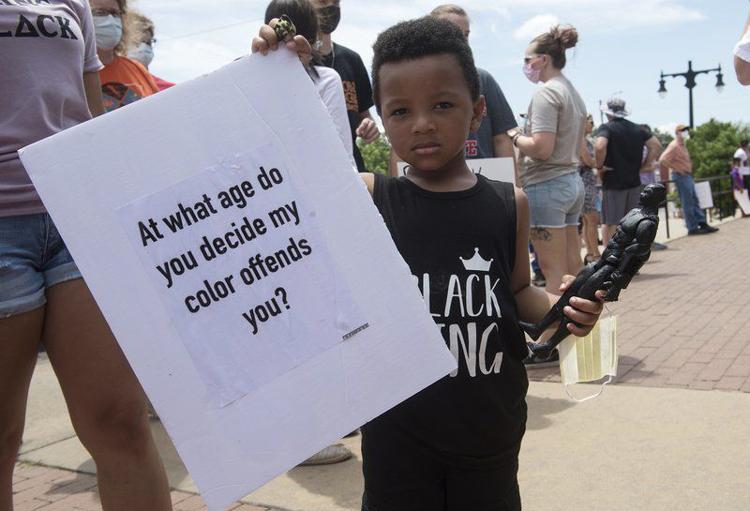 A 4-year-old sends message with a sign and a Black Panther action figure at Monday's Black Lives Matter rally in Pittsburg. GLOBE | ROGER NOMER
Jaramillo echoed Rose's sentiment, saying she had "never seen so much love in our community, especially with all of the hate we're seeing in the world currently."
Seeing all of the people here, people of different colors and backgrounds, supporting Black Lives Matters means so much," Jaramillo said. "There really is change happening right before our eyes."